PB&Me Sugar-free Peanut Butter Salted Caramels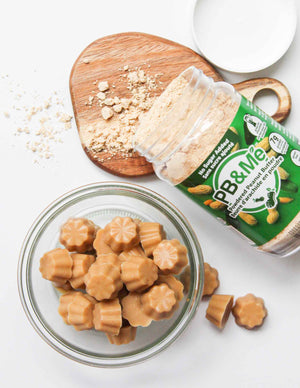 Yields 40 pieces
Ingredients
2 tbsp Pb&Me No Sugar Added Powdered Peanut Butter 
1/3 cup tahini 
1 tbsp Pyure Harmless Hunny OR keto-friendly maple syrup 
1 tsp vanilla extract 
1/2 cup coconut oil, melted
generous pinch of salt 

Directions: 
Add all ingredients to a bowl and throughly mix.
Taste and adjust for salt/sweetness if needed.
Fill silicone molds with mixture and transfer to freezer for 1 hour.
Remove from mold and store in fridge until ready to enjoy. *These are great blended into coffee for some extra healthy fats!