PB&Me Peanut Butter Waffles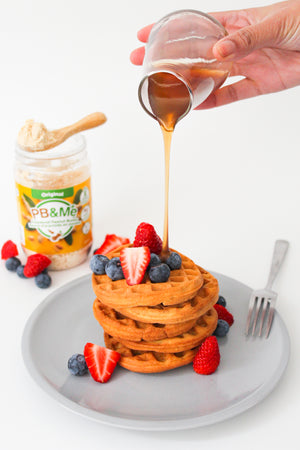 Yields 5 waffles
Ingredients: 
3 tbsp PB&Me Powdered Original Peanut Butter 
1/4 cup + 2 tbsp almond flour
1 tbsp erythritol (or alternative sweetener)
1/2 tsp baking soda 
2 eggs, beaten 
2 tbsp alternative milk 
Neutral oil, for greasing waffle maker 
Mixed berries, for garnish 

Directions:
Combine all ingredients in a large bowl and vigorously whisk until completely smooth. 
Preheat a waffle maker and generously grease with oil on both sides (Repeat this process after each waffle).
Pour ~ 1/4 cup of waffle mix into the waffle maker and allow to cook for 1 minute, or until waffle maker indicates to open.
Flip the waffle and cook for another minute. Repeat this process for all waffles. Garnish with berries and alternative maple syrup. Enjoy!