Banana Bread & Peanut Butter Yogurt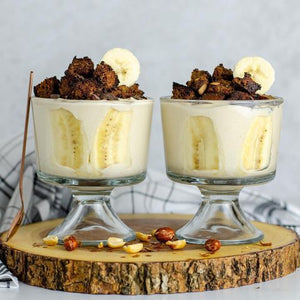 If you've never had banana bread croutons on yogurt or ice cream, you're missing out! But don't worry, it's never too late!⁠
⁠
Recipe: 👩‍🍳⁠
Banana bread:⁠
1/2 package of banana bread mix⁠
2 eggs⁠
3 large ripe bananas, mashed⁠
1/3 cup plain greek yogurt⁠
1/3 cup dark chocolate chips ⁠
1/4 cup walnuts, chopped⁠
⁠
Peanut butter yogurt:⁠
1 1/2 cups of plain Greek yogurt⁠
6 tbsp 
@pb.and.me
 no sugar added powdered peanut butter⁠
3 tbsp sugar-free maple syrup (or if preferred sub regular maple syrup or honey) ⁠
⁠
Directions (banana bread):⁠
🍌Preheat the oven to 350°. In a large bowl mix the banana bread ingredients until blended. Fold in the chocolate and nuts. Pour into a greased loaf pan and bake for 45-55min or till a toothpick poked through the middle comes out clean. Allow the cake to cool completely. ⁠
⁠
🍌To turn into croutons; slice two 1/2" slices off the banana bread. Cut each slice into 3 pieces lengthwise and then into 1/2" cubes. Place the cubes onto a cookie sheet and then under the oven's broiler. Broil for 1-2min per side or till browned and crisp. Remove from the oven and allow to cool completely. ⁠
⁠
Directions (yogurt mix): ⁠
In a bowl mix together the peanut butter, yogurt, and maple syrup till smooth. Set aside.⁠
⁠
1 banana, cut into slices ⁠
1 tbsp dark chocolate, cut into chunks⁠
⁠
To assemble, layer the sliced banana and peanut butter yogurt. Top with croutons and a sprinkle of chocolate. ⁠
⁠
Enjoy!⁠
⁠
📸 
@kandbcooking