PB&Me Stuffed Brownies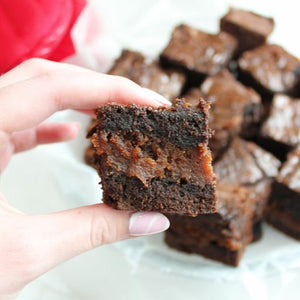 Recipe 📝⁠
🥜Peanut butter filling: ⁠
1 cup PB&Me Powdered Peanut Butter (we used Dark Roast)⁠
6 tbsp unsalted butter, melted ⁠
1 tbs vanilla extract ⁠
1 cup powdered sugar ⁠
⁠
🍫Brownies: ⁠
1/3 cup cocoa ⁠
1/2 cup hot water ⁠
2 ounces chopped chocolate ⁠
4 tbsp melted butter ⁠
1/2 cup vegetable oil ⁠
2 eggs⁠
2 egg yolks ⁠
2 tspn vanilla ⁠
2 cups sugar ⁠
1 3/4 cup flour. ⁠
3/4 tspn salt ⁠

⁠
Directions 📝⁠
🥜Melt the butter and mix it with the vanilla. Add the PB&Me and powdered sugar gradually. Set mixture aside for now.⁠
🍫Whisk the cocoa and hot water together in a large bowl, until smooth. Next, add the chopped chocolate and whisk until It melts. ⁠
🍫Whisk in the melted butter and oil (curdled look is okay for now)⁠
🍫add the eggs, the yolks and mix until smooth. ⁠
🍫Gradually add the sugar and then gradually add the flour, while mixing. ⁠
🥄Pour half the batter onto a baking pan, then add the peanut butter filling to the centre, topping it with the other half of the brownie batter. ⁠
🥄Bake in the oven for about 30 minus at 350 degrees. Let cool, and enjoy!