PB&Me Almond Butter Tofu Buddha Bowl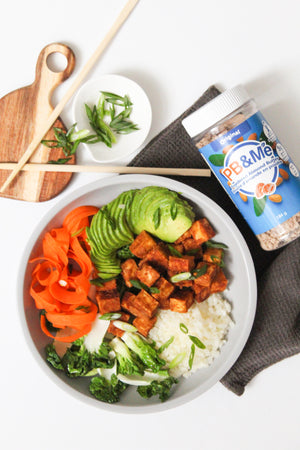 Serves 1
Ingredients:
1/2 brick of tofu, cut into small cubes
1 tbsp avocado oil
1 cup cauliflower rice
1 cup baby bok choy, cut into small pieces
1 small carrot, peeled and ribboned 
1/2 avocado, thinly sliced 
Green onions, for garnish 
Sauce:
2 tsp PB&Me Powdered Almond Butter 
2 tsp water
1 tsp soy sauce
1/2 tsp sesame oil 

Directions:
Preheat a non-stick pan over medium-high heat. Add avocado oil and tofu.
Fry on each side for server also minutes until brown and crispy.
Meanwhile, mix all sauce ingredients in a bowl.
Once tofu is finished frying, toss in bowl with sauce ingredients until evenly coated. 
In the same pan, add cauliflower rice and bok choy, stirring often until liquid starts to release and steam forms. Plate all ingredients, mix together and serve.

Bon Appétit!