PB&Me Powdered Peanut Butter Energy Bites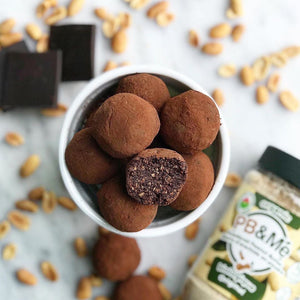 (Yields 12 medium sized bites)
Ingredients:
1/2 cup raw peanuts
1/2 cup raw cashews 
10 pitted medjool dates
1 cup large flake oats
1 bops PB&Me Powdered Peanut Butter
1 tbsp hemp hearts 
2 tbsp cocoa powder 
1/4 cup unsweetened almond milk 
+ * 1/2 cup cocoa powder (for coating balls)
Directions: 
In food processor, blend together cashews, peanuts and oats. Add in dates and blend well for 1-2 minutes. Once dates are blended finely and become a paste-like consistency, add in the remaining ingredients (except the 1/2 cup of cocoa powder for rolling). 
Blend well for another 1-2 minutes until mixture forms into a ball. Spoon out mixture and roll in hands to form small balls. Roll around in small bowl with cocoa powder and roll again in hands. 
Place on a plate and put in the fridge to form. Let sit for 1 hour and place into a dealer container to store later! Enjoy!