PB&Me Peanut Butter Pad Thai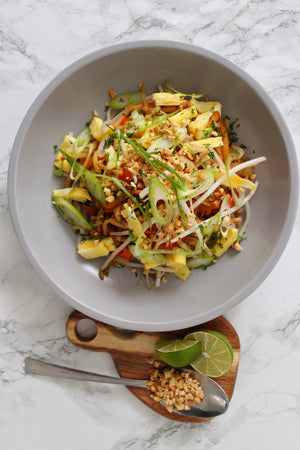 Serves 1 #ketomeals
Ingredients:
PB&Me Peanut Pad Thai Sauce:
2 tbsp Pb&Me Unsweetened Powdered Peanut Butter 
1 tsp water
1 tsp coconut cream 
1 tsp tamari 
1 tsp hot sauce 
1/2 tsp fish sauce 
Pasta:
1/2 can HOP 
2 tbsp vegetable oil
1 large garlic clove, sliced 
1/2 cup yellow pepper, sliced 
1/2 cup red pepper, sliced 
1/2 cup red onion, sliced 
1 egg, beaten
Directions:
For the sauce, combine all ingredients and mix well.  
Turn a frying pan to medium-high and add oil. Add garlic, peppers and red onion, stirring occasionally for a few minutes. Add HOP and egg, stirring until warmed through. Lower the heat and add peanut sauce, mixing well. Plate and garnish with bean sprouts, chopped cilantro and chopped peanuts. Enjoy!