PB&Me Peanut Butter Cocoa Puffs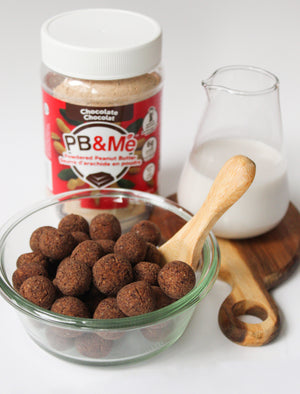 2-3 Servings
Ingredients:
2 tbsp PB&Me Chocolate Powdered Peanut Butter
3 tbsp cacao powder 
3/4 cup almond flour 
1/4 cup coconut flour 
1 tsp baking powder 
1/4 cup erythritol, powdered  
2 tbsp flax seeds, ground 
2 eggs, beaten 
2 tbsp water 

Directions:
Preheat oven to 350°F.
Add all ingredients to a bowl and throughly mix.
Using wet hands, form small balls (roughly 1/2 tsp per) and place them on a baking sheet lined with parchment paper.
Bake for 10 minutes, shake the pan, then return to oven for another 10 minutes.
Allow to fully cool before serving. 
Go ahead, go nuts!