PB&Me No-Bake Almond Butter Snickerdoodle Bites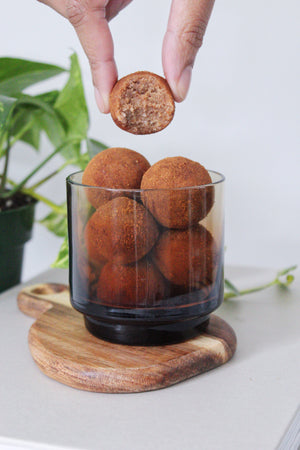 Yields 7 #ketofriendly bites
Ingredients:
1 cup almond flour
2 tbsp PB&Me Powdered Almond Butter
1 tsp cinnamon + 1/2 tsp for coating 
2 tbsp water 
2 tbsp keto maple syrup 
1 tsp monk fruit sweetener
pinch of salt 
neutral oil for forming
Directions: 
Add powdered almond butter, water and keto maple syrup to a bowl. Stir until smooth. 
In a separate bowl add almond flour, 1 tsp cinnamon and a pinch of salt. Stir wet ingredients into dry ingredients until fully incorporated. 
Combine monk fruit sweetener with 1/2 tsp cinnamon in a small bowl. 
Using lightly oiled hands, scoop 1 tbsp of dough at a time and roll into balls. Once completed, roll each ball in cinnamon sugar. Refrigerate until ready to enjoy!