PB&Me Mini Vanilla Keto Donuts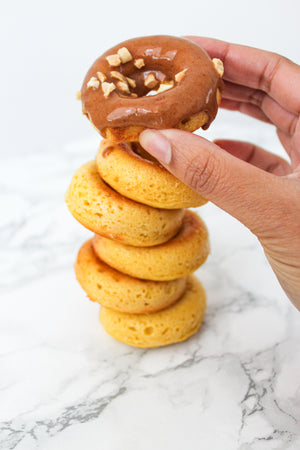 Abs are cool, but have you ever tried donuts?
*Yields 11 mini donuts
Ingredients: 
1/4 cup almond flour
1/4 cup sweet lupin flour
2 tbsp alternative sugar 
1/4 tsp kosher salt
1 tsp baking powder
2 tbsp heavy cream
1 egg
1/2 tsp vanilla extract
2 tbsp coconut oil
Chocolate Peanut Butter Glaze:
1 tbsp powdered chocolate peanut butter
3/4 tbsp alternative sugar 
1 1/2 tsp water
Directions:
Preheat an oven to 350°F. Mix all dry ingredients in a bowl. In a separate bowl mix wet ingredients. Incorporate wet ingredients into dry ingredients. Spoon into  a mini silicone donut mold, leaving a 1/4 inch of space at the top. Bake for 10 minutes and allow to cool before glazing.
For Chocolate PB Glaze, mix all ingredients together on a bowl and glaze donuts. Garnish with chopped peanuts, and enjoy!