PB&Me + Jelly Stuffed Doughnuts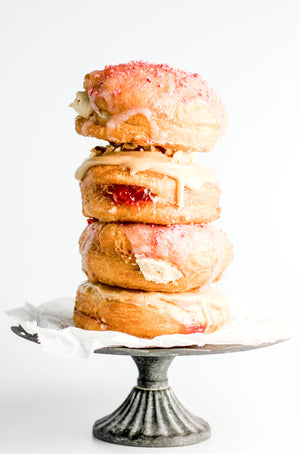 Ingredients:
1/4 cup PB&Me powdered peanut butter + 1/8 cup of water (for the PB)(mix together and set aside)
1/4 cup jelly of your choice
2 packages (1/4 ounce each) active dry yeast
1/4 cup warm water 
3/4 cup warm full-fat milk 
5 tbsp unsalted butter, at room temperature
1/3 cup granulated sugar
2 eggs 
1 teaspoon salt
3 and 3/4 cups all-purpose flour
2 cups vegetable oil, for frying
Directions:
In a small bowl dissolve yeast in warm water, set aside, and allow it to foam up; about 5 minutes.
In a large bowl, combine warm milk and butter, whisk until butter has completely dissolved. Add in sugar, 1 egg yolk and 1 full egg, salt, yeast mixture, and 3 cups flour; beat until smooth. Stir in enough remaining flour to form a soft ball of dough (don't knead the dough just yet).
Place a ball of dough in a lightly greased bowl, turning once to grease top. Cover tightly with saran wrap and let rise in a warm place for 1 hour.
After hour has passed, punch the dough down and turn it onto a lightly floured surface; knead 8 times.
Divide the dough in half, creating two even-sized balls of dough. Roll each portion out to 1/4-in. thickness. Cut each side with a lightly floured 2-1/2-in. round cutter. Place 1/2 teaspoon of PB and 1/2 tsp jelly in the center of half of the circles. Brush the edges lightly with egg white, then top with remaining circles. Press the edges together tightly to seal.
Place on greased baking sheet. Cover and let rise until doubled, about 45 minutes. When ready to fry, heat oil to 360°. Fry doughnuts, a few at a time, for 1-2 minutes on each side or until golden brown. Drain on paper towels. 
*PB optional icing: mix 2 cups powdered sugar with 1 tbsp PB&Me, and 2 tbsp of water. Add a little water at a time, while mixing, until thick icing forms.