PB&Me Halloween Pumpkin Peanut Butter Cookies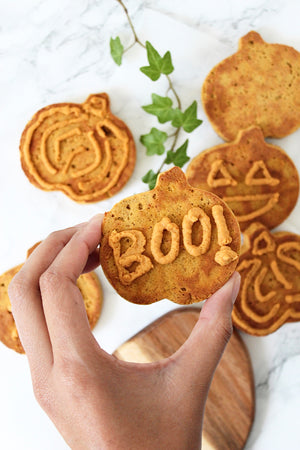 Yields ~18 Cookies 
Ingredients: 
1 cup pumpkin purée
3 tbsp PB&Me Unsweetened Powdered Peanut Butter
3 eggs
1 tsp vanilla extract
1/3 cup butter, melted
3/4 tsp liquid monk fruit
3/4 cup coconut flour
2 tbsp oat fiber
4 tsp baking powder
2 tsp pumpkin spice
pinch of salt
For decorating:
2 1/2 tbsp Pb&Me Unsweetened Powdered Peanut Butter
2 tbsp pumpkin purée
Directions: 
Preheat an oven to 350°F
In a bowl, combine all wet ingredients and throughly mix. In a separate bowl combine all dry ingredients and whisk together. Fold wet ingredients into dry ingredients.
On a lined baking sheet, lay your cooking cutter down and press a heaping tablespoon into the shape of the mould. Repeat until tray is full. Bake for 10-12 minutes then allow to cool.
For decorating, mix both ingredients together, adjusting consistency with water if needed. Pipe onto cooled cookies as desired!