PB&Me Flourless Chocolate Hazelnut Torte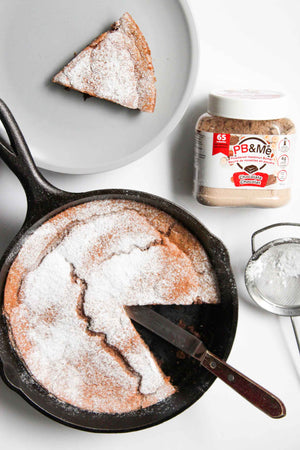 ⁠Ingredients:
4 large egg yolks⁠
4 large egg whites⁠
1/4 tsp cream of tartar
⁠1 tbsp monk fruit sweetener ⁠
2 tbsp cocoa powder ⁠
3/4 cup butter, melted 
1/4 cup PB&Me Powdered Chocolate Hazelnut Butter⁠ ⁠
Directions:⁠
Preheat oven to 325°F. ⁠ ⁠
In a large bowl or stand mixer, whip egg whites and cream of tartar until soft peaks form.
In another bowl, whip egg yolks until pale and thick.
To the yolks, add monk fruit sweetener, cocoa powder, melted butter, and powdered chocolate hazelnut butter.
Mix well and gently fold into whipped egg whites.
Pour into a lined springform pan.
Bake for 20-25 minutes and allow to fully cool before cutting.
Sprinkle top with powdered monk fruit sweetener and serve. Enjoy!