PB&Me and Jelly Stuffed Pancakes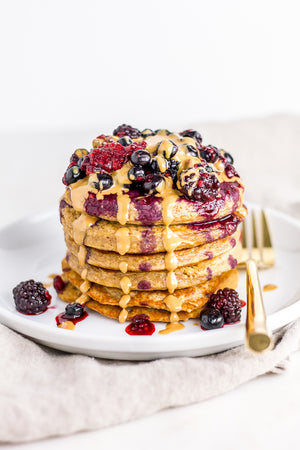 Serves 1 #ketofriendly Pumpkin Pie Jar
Ingredients: 
PB&Me powdered peanut butter
1 cup whole wheat pastry flour
2 tsp baking powder 
1/2 tsp baking soda
1/2 tsp kosher salt
1/2 tsp ground cinnamon 
1 cup low-fat buttermilk 
2 tbsp plain non-fat Greek yogurt 
1 egg white
1 tbsp honey 
1 tsp vanilla extract
2+ tsp jelly of your choice
Optional: chopped peanuts, berries, maple syrup
Directions: 
In a large bowl whisk together the whole wheat pastry flour, baking powder, baking soda, kosher salt and ground cinnamon. 

In a smaller bowl whisk together the buttermilk, Greek yogurt, egg white, honey and vanilla extract.

Pour the wet ingredients into the dry and fold together with a rubber spatula until combined.

Heat up an electric griddle according to manufacturer's instructions.

Scoop approximately 3 tablespoons of the pancake batter onto the hot griddle.

When bubbles start to form on top of the pancake, spoon about a heaping teaspoon of PB&Me and a teaspoon of jelly onto the centre of the pancake.

Cover the PB&Me and jelly with another tablespoon of the pancake batter then flip the pancake over and cook until done.

Repeat the process with the remaining pancake batter, PB&Me and jelly.

Top the pancakes with more peanut butter and jelly, chopped peanuts, berries and maple syrup if desired. Enjoy!