PB&Me Almond Butter Crumb Pumpkin Pie Jar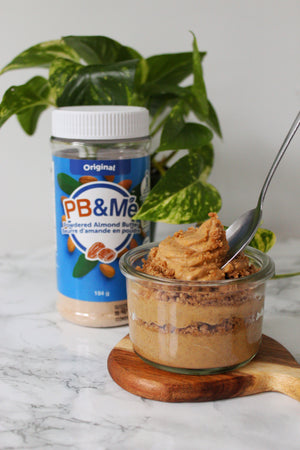 Serves 1 #ketofriendly Pumpkin Pie Jar
Ingredients: 
Filling:
1/3 cup pumpkin purée 
1/2 cup coconut cream
2 tbsp monk fruit sweetener
1 tsp vanilla extract
1 1/2 tsp pumpkin pie spice 
pinch of salt 
Almond Butter Crumb:
2 tbsp Pb&Me Original Powdered Almond Butter  
2 tbsp almond flour 
1 1/2 tsp butter, melted 
Directions:
For the filling, combine all ingredients in a blender and blend until smooth. Transfer to a piping bag and allow to thicken in the fridge for 2 hours. 
For the crumb, toast almond flour in a dry pan until lightly browned and fragrant. Transfer to a small bowl and add powdered almond butter and melted butter. Stir until it resembles coarse crumbs. 
To assemble, pipe pumpkin filling into a jar, layering until full. Serve cold. Enjoy!